What kind of statue is that
Christ statue in Lisbon
Cristo Rei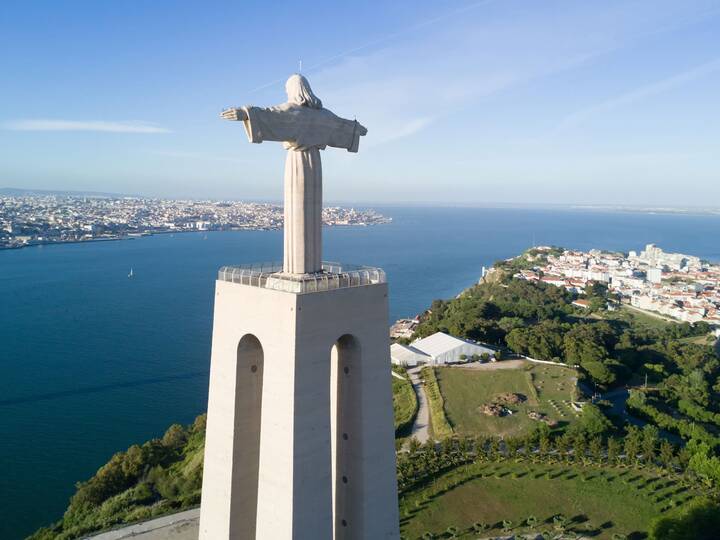 The Christ statue in Lisbon overlooking the Tagus River (Hugo Felix / Shutterstock.com)
The imposing statue of Christ Cristo Rei towers high above Lisbon, in the municipality of Almada just outside, from which you have a breathtaking view of Lisbon and enjoy the metropolis from a completely different perspective.
With a height of 28 meters, the statue, visible from afar, is the seventh highest statue of Christ in the world, which looks very sublime and powerful due to its location at a height of 113 meters and a 75 meter high base.
In addition to the outstanding view that you have from the Christ statue, the place is also a worthwhile excursion destination due to its status as one of the most important pilgrimage sites on the Iberian Peninsula when you are in Lisbon and the surrounding area.
Christo Rei - a symbol of peace
Inspired by the Cristo Redentor statue in Rio de Janeiro, which the then Archbishop of Lisbon Manuel Gonçalves Cerejeira had admired on a trip to Brazil in 1934, he promoted the erection of a similar statue of Christ in Lisbon in the highest church circles in Portugal .
In 1940 he was finally listened to and at a meeting of the Portuguese bishops, in view of the looming Second World War, it was decided to erect a statue of Christ in Lisbon if Portugal would be spared the effects of the war. Fortunately, this was the case, so the plans to build the statue of Christ in Lisbon were implemented from 1949 onwards.
Initiation under the eyes of the world
After around 10 years of construction, the statue of Christ in Lisbon was inaugurated in a pompous ceremony in 1959 in the presence of high-ranking church representatives from all over the world and global media participation. Over 300,000 people attended the poignant event and witnessed a new Lisbon landmark being unveiled.
Slowly slide down the Tejo with Cristo Rei always in view
As you will see, a trip to the statue of Christ in Almada is worthwhile not only because of the view and the very special atmosphere around the statue, but also because the way is the goal with this highlight of Lisbon.
If you have half a day to spare during your visit to Lisbon, you should definitely use public transport to get to the Christ statue in Almada. Because the most beautiful and most comfortable way from downtown Lisbon to the towering Cristo Rei leads you to a ferry at the ferry pier Cais do Sodré with which you comfortably cruise on the Tagus River towards the statue of Christ and the wonderful view of the statue and the skyline of Lisbon can enjoy.
Opening times and admission
You can visit the Cristo Rei in Lisbon every day from 9.30 a.m. to 6 p.m.
Entry to the top costs 5 euros. An elevator takes you to the 75 meter high viewpoint.