Are we running out of airline pilots?
Aviation restart with lack of pilots?
Nils Wulkop has just received his new roster. "There is an 'X1' in it for every day," he says, "that means I won't fly at all." The 51-year-old from Hamburg is a Lufthansa pilot and has been in the cockpit for 25 years, the last ten years of which in the left seat of an Airbus A320. Before the crisis, Lufthansa alone flew over 160 jets of this widespread medium-haul aircraft. How many of them will be on the road after the crisis is uncertain, some have recently been in the Spanish parking lot Teruel for a longer period of time.
Since March, Nils Wulkop has not sat on the sidestick that replaces the control column on the A320. "I never thought that the grounding would take so long," says the flight captain. He misses his job: "I enjoyed being out and about, it was also a rest for me." He has not come out of northern Germany for three months. "All my colleagues are happy when they see on the duty roster that they are allowed to fly," reports Wulkop, but he also knows: "Lufthansa is having a hard time planning anything reliably."
Too often announced flights cannot take place, for example because the destination country has not reopened the borders as previously expected. In June, only a few of the 280 jets that the Lufthansa passenger airline normally operates on its own were on the move. The entire group with the subsidiaries had around 760 aircraft, around 200 of which are to remain on the ground permanently. Every seventh pilot position is at risk from the necessary downsizing, said Lufthansa Human Resources Director Michael Niggemann.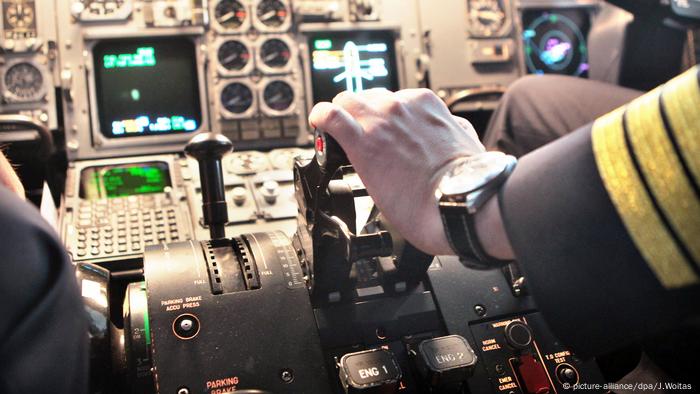 Ready for take off: Here is a cockpit of an Airbus A300-600
Hundreds of pilots are threatened with unemployment
The Pilotenvereinigung Cockpit (VC) does not expect Lufthansa pilots to be dismissed. "There may be no jobs there, but we believe that the staff will definitely be needed, for example through necessary future retraining. I do not assume that heads will disappear at Lufthansa," emphasizes VC spokesman Janis Schmitt. It hit him harder personally - he previously worked for the former Air Berlin subsidiary Luftfahrtgesellschaft Walter (LGW), which last flew for Eurowings and recently had to file for bankruptcy.
Because outside the crane line, which is now stabilized by almost billion euros in government support, it looks much worse: "We estimate that there are up to 22,000 commercial and commercial pilots in Germany, of which over 1200 are currently threatened with immediate unemployment," fears Schmitt. And do the math: There were 160 pilots at LGW alone, 100 at the Thomas Cook offshoot TCN, 300 to 400 at the Sun Express, which is now bankrupt, and 300 at TUIfly. "There is still a big question mark behind Eurowings a few hundred people, and Condor is also in a difficult business environment, "says Schmitt with fearful premonitions.
The European Cockpit Association (ECA), the European pilots' association, warns: "Thousands more pilots will soon join the unemployed in Europe." But both Nils Wulkop and his former LGW colleague remain confident: "I'm an optimist, after all, Lufthansa was number one in Europe before," says Wulkop. "I still have 14 years ahead of me" - commercial pilots have to retire at 65 - "that doesn't affect me in the middle of my career." After all, the eight-year flight pilot training (it takes that long before you can actually sit in the left seat) is so expensive that neither employees nor employers carelessly dismiss or change jobs.
Flight simulators are also currently closed
"At the moment everyone is at risk, but the big airlines have a bulwark of contracts and security mechanisms," says VC man Schmitt, assessing the situation. "Basically, I assume that in two or three years the old passenger level will be reached again and then you need the people. The question is of course what you do with the staff in the meantime," said the pilot's spokesman.
Many flight captains who are currently banished to the ground are already asking themselves the question - and the question could still be of crucial importance for the entire industry. Because the fact is: "Unlike in other professions, pilots need long-term flying experience in order to keep their licenses and be available for use or the job market. This is a mandatory statutory requirement," explains the ECA.
Every 90 days at the latest, pilots must provide evidence of three take-offs and landings. Almost impossible in Corona times, not even in the simulator, which would be sufficient, but they are also largely closed. Janis Schmitt's license, who at the moment can no longer fly due to his job loss, is still valid until March 2021. "After that, I would have to extend it privately. Either the Federal Employment Agency will help me or a new employer - but otherwise I have to pay yourself ", fears Schmitt. "That can easily cost 2000 euros with arrival and departure until you have extended the certificate." A lot of money for an unemployed pilot.
Model airplanes as a replacement
During the forced downtime on the ground, most pilots do nothing flying, except to work through documents that were left behind. "I have acquired a new hobby of piloting remote-controlled model gliders with my sons," laughs Nils Wulkop, but he is clear: "I shouldn't be able to fly myself at the moment, so I have to learn a lot again beforehand." It is clear that the type rating to fly a certain aircraft type, the so-called type rating, has now expired for most commercial pilots.
In the event of a large-scale restart of scheduled flights, all pilots must first complete three to four days of training in the simulator. "This becomes a big bottleneck when all pilots have to renew their licenses and re-qualify, which can take a few months or even a year," warns the pilot's spokesman. Many airlines and travelers are threatened with further restrictions if things can actually start again. Nils Wulkop just wants to finally get back into the cockpit. "In any case, getting a lot of money for doing nothing feels weird."