Could painting ever die as art?
FLORIN KOMPATSCHER - Painting is the supreme discipline
Florin Kompatscher at the art berlin contemporary 2015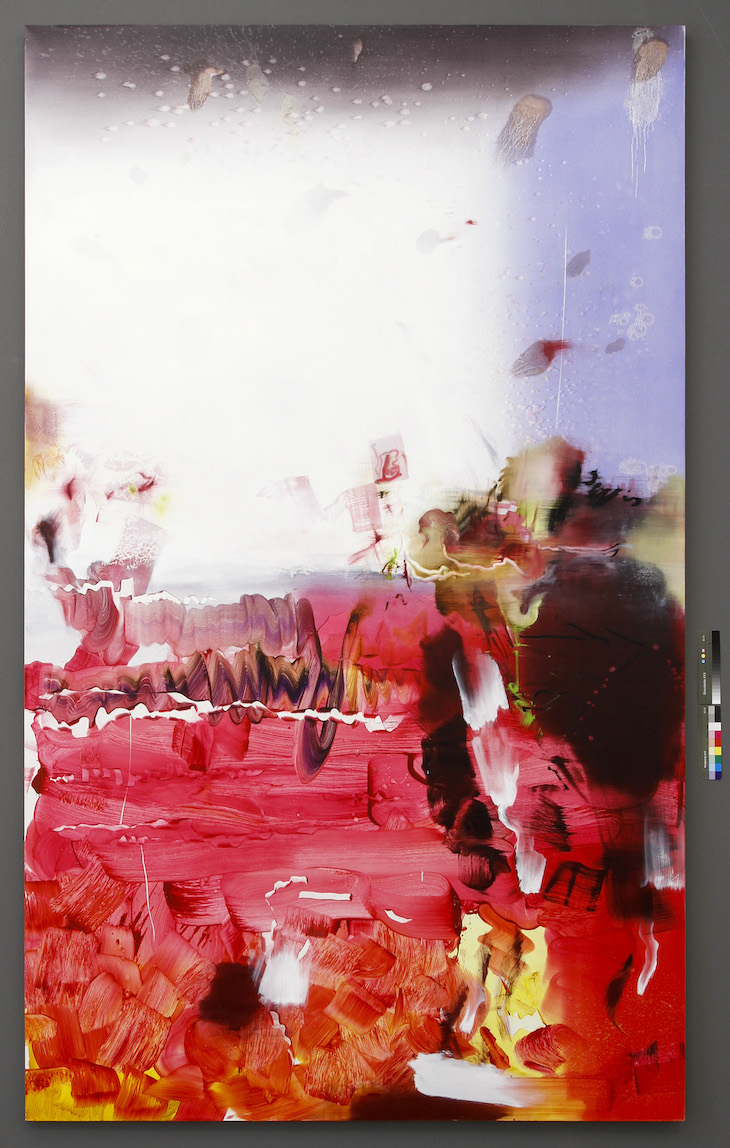 Florin Kompatscher Untitled 2014, oil on linen, 300 x 180 cm
The art berlin contemporary 2015 is probably the most beautiful exhibition space at BERLIN ART WEEK 2015 until Sunday. Around 100 international galleries each show exactly one of their contemporary artists. The Viennese gallery Elisabeth & Klaus Thoman has chosen the abstract painter Florin Kompatscher. The work of the successful artist currently living in Berlin is characterized by a meticulous examination of the medium of painting. Instead of a consistent red thread or a final design language, his work shows versatility - compositionally as well as formally and technically.
Abstract painting demands more from the viewer because it speaks its own language
wrote the author Travis Jeppesen. And it really is necessary to decipher the "coding" of the painting, to enable individual access, to make the innovative content of an oeuvre visible. But how? "To get a better mastery of a work of art, I usually use a trick: I put myself, somewhat artificial, into a state of naivety, I talk about it - and I talk to it - even in the most everyday words, even a little in Baby language (...) "wrote Jean Genet in 1957 in his study" Giacometti's Atelier ". That is an option. Another, perhaps complementary, method is dialogue with the artist himself.
Sabrina Möller met the painter in his Berlin studio before the art berlin contemporary. A conversation about how to create painting that stands for itself, how magic becomes possible on minimally abstract paintings, and whether painting will ever die.
Florin Kompatscher: It's not enough to stick around on a canvas.
Florin, what is the beginning of a new job? An idea, a desire or the first stroke of the brush?
For me there is no beginning in this sense. Rather, it is a river: you deal very intensively with what you are doing and at some point you will reap the benefits. There is no theoretically informal superstructure before taking pictures. The interesting aspects of individual works can in turn provide the breeding ground for future works. Elements that are visible in previous pictures, for example, can be rediscovered in subsequent works - only in a completely different form of discussion. This is exactly what interests me: to constantly advance painting within a process.
So every picture is a kind of continuation?
Correct! But it's not that simple either. The process is not necessarily carried out from picture to picture, but there is an inner desire to drive the whole thing forward and the constant attempt to develop something new from it. On the other hand, some things happen intuitively and you don't know exactly how it happened. Then I often start to reflect, sit for hours in the studio, look at what I've just made and ask myself: What does it do to me, what does painting do to me?
The repetition, better said the confirmation of what has already been done, is extremely important, even necessary. Only through this confirmation does the whole thing gain in value. Simply smearing and dabbing around on a canvas is by far not enough. To deal with it meticulously and to develop a group of works or an exhibition based on this examination is a very complex path.
We already have too much art on this globe.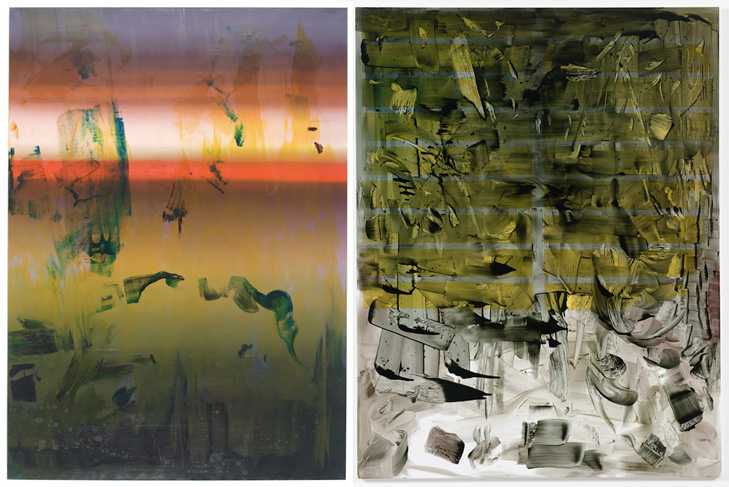 Florin Kompatscher: Untitled, 2012, oil on linen
The characteristic of your works are the constant further developments less a consistent style. Would a final language of form for you be the standstill, the end?
What does final mean? The end is always a beginning, isn't it? The worst thing for me is boredom. The curiosity, the search for new possibilities will never end. But maybe one day I'll be able to paint a picture that I think I can't do better.
Would you then stop painting?
Then maybe that would be interesting. Because we already have too much art on this globe. At the moment I just don't really know what to do then. At least one thing is certain: I definitely don't want to pile up a huge mountain of pictures! I will know how to prevent this through rigorous selection. I will only leave the very best, everything else must be destroyed.
Even if there are over twenty collectors on a waiting list for your works?
That is the greatest danger: Suddenly there are a lot of mediocre pictures of actually good artists on the market who have failed to make a selection. At some point I will scratch it off and then I would prefer to just leave my top 20 pictures. It would be great if everyone argued about it!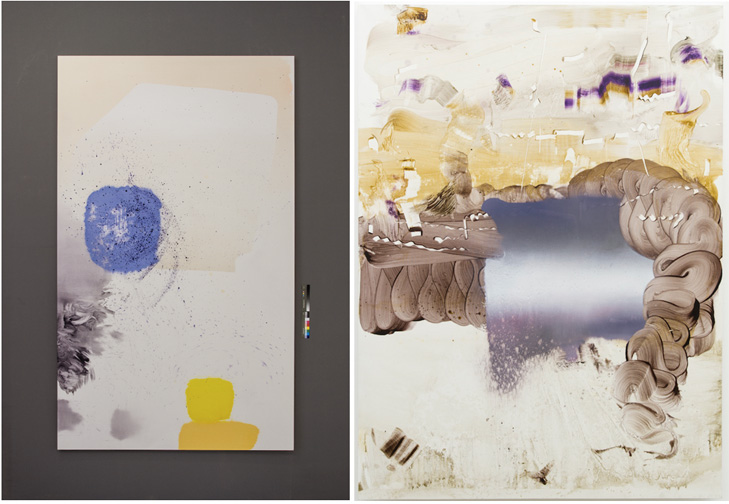 Florin Kompatscher: Untitled, 2013, oil on linen
Would you say that you are underestimated yourself?
I can't promote myself now, but I believe that my work is difficult to access. I'm not one of those artists who branded themselves very early on. It's easier with a style that is always recognizable.
I also never belonged to any group, traveled across Europe, so it was quite difficult to establish myself. Yes, actually I would say that my work is underestimated. It was more important to me to always find new ways and challenges. This also requires some detours, which are often difficult to understand, but which were necessary. Colleagues sometimes get 100 times as much for their pictures, but that is often not rationally understandable. This simply includes a little luck, the right connections, the right aura, being in the right place at the right time, the whole package. What do I know what ultimately makes it up.
I hate that too. It then becomes as professional as that of a manager who has to go to every event. I dont want that! Art shouldn't depend on it. If that is her, then that is sad.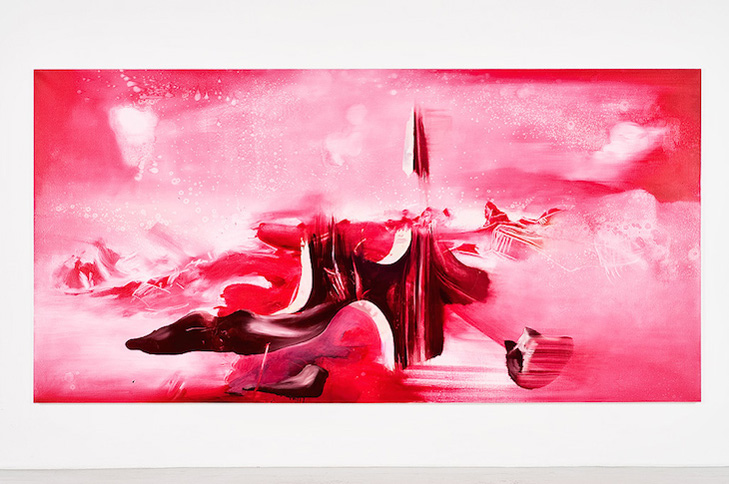 Florin Kompatscher: purple paranoia, 2007, oil on linen, 200 x 400 cm
How can I do painting that stands for itself?
Her works are color-intensive, show an unbelievable spectrum of nuances and at the same time the color - or the painting - almost seems to dissolve itself.
I don't intentionally dissolve the painting. No, I love her too much for that!
I love painting very much and am very afraid that it may not be healthy,
wrote Albert Oehlen on a large screen print. The trend towards dissolution already existed in the eighties or nineties. For me, it's more about reduction and a subtle perception of nuances. I am also interested in combining different approaches, what is considered and what is less considered or contradicting in one picture. From today's perspective, how can I practice painting that stands for itself? These are big questions that are not easy to solve. But it has never been, has it?
Do you ever think of motifs when you paint?
I try to avoid that. That's why I rarely go to exhibitions, because it irritates me immensely. I used to be hungry for it and looked at everything. Now I just look specifically at exhibitions. I usually carry the impressions around with me for far too long, occupy myself with them and that ultimately irritates me in my own work. Nevertheless: you have to deal intensively with painting, of course, but it is more difficult to work with concrete images in your head.
Florin Kompatscher: There are no coincidences in painting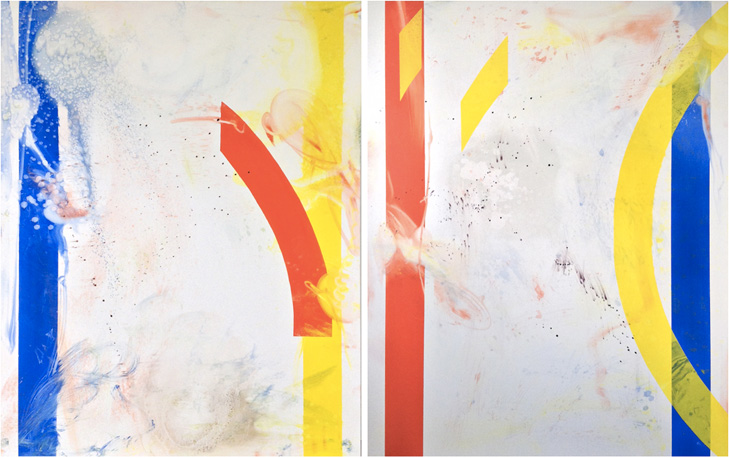 Florin Kompatscher: Untitled, 2015, oil on linen
Noemi Smolik tried to concretize your approach to painting in a text. In doing so, she discovered that your painting is characterized neither purely by intentions nor purely by intuitions. Katja Blomberg, on the other hand, made intuitive perception strong. How do you classify your access yourself?
Maybe somewhere in between. It has a lot to do with intuition, of course, but I don't think there are any coincidences in painting. I can't splash around quickly or mess around and then run out of the room so I don't think about what I've just started. Because that is extremely important for the next step. In this respect, there is a certain intuition, but without the head, the intellect and a spiritual argument it simply does not work.
What role does the unconscious, the dream world play?
That is a grateful and at the same time ungrateful term. Because so far nobody has proven what these dream worlds are. Perhaps it is rather a certain magic: a picture must have something magical about it, otherwise it is not a good picture. There must be a tingling sensation, something I can't explain. Like a sky full of stars, like goosebumps.
How would you judge the position of painting today?
Painting is the supreme discipline. Nothing can replace painting.
The death of painting - can it even exist?
No, that is impossible! There are artists, who are unwaveringly preoccupied with the problems of painting and its history. There will always be something new and fantastic. Sure, everything can get tighter, but one painter will always make the whole world tremble. But you have to be ready for it. The institutions are currently happy to leave painting out. I don't think that's right, but I'm not worried about it. That will certainly change again!
Current exhibition by Florin Kompatscher
Abc art berlin contemporary 2015 will run until Sunday, September 20, 2015.
Opening times // Saturday 19 September | 12 p.m. - 7 p.m. // Sunday 20 September | 12 p.m. - 6 p.m.
Address // Station Berlin / Luckenwalder Strasse 4-6 / 10963 Berlin
Interview: Sabrina Möller // Portrait photo: © Oliver Mark // Photos of the work© Galerie Elisabeth & Klaus Thoman / Jorit Aust, Courtesy Galerie Elisabeth & Klaus Thoman Innsbruck / Vienna