Which European country gives citizenship easily
The crux of the matter with citizenship
Let's start in Germany: The Federal Republic has a rather exclusive claim to its citizens. You can no longer be German if you take on another citizenship. Conversely, a foreigner can usually only become a German if he or she "gives up or loses his or her previous citizenship". This is what it says in Section 10 of the Nationality Act.
So much for the basic principle, which is increasingly being relaxed. Because there are exceptions in Germany too: Among other things, when some countries simply do not let go of their citizens.
Iran is one of these countries. The country's civil code stipulates that it is almost impossible to surrender Iranian citizenship again. At the same time, it is almost inevitable for many to get it: anyone who has an Iranian father is also considered an Iranian citizen. No matter where he lives or was born.
A special clause also makes it particularly difficult for women to give up their Iranian citizenship. Because women must have the same citizenship as their husbands. For these reasons, multiple statehood is almost always accepted when Iranians are naturalized in Germany. Figures from the Federal Statistical Office show that 3,080 Iranians were naturalized in the past year, none of whom have surrendered their Iranian passports.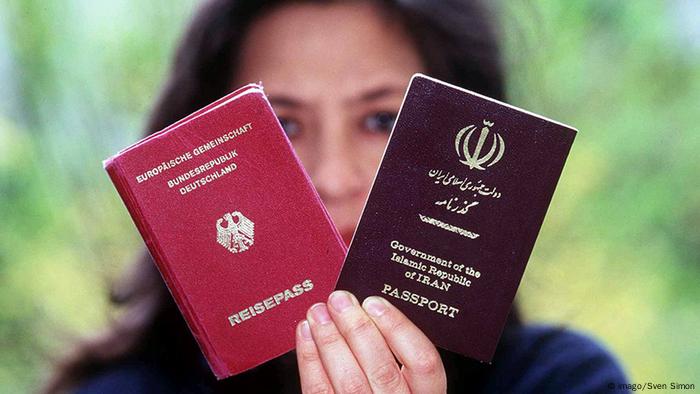 German and Iranian passports: some countries just won't let go of their citizens
But Iran is far from the only country that refuses to dismiss its citizens. This affects around 40 countries, for example Argentina. The 155 Argentinians who were naturalized in Germany last year have accordingly all kept their Argentinean passports. Other countries with strict citizenship rules include Afghanistan, Eritrea, Nigeria and Syria.
Ancestry versus Territory
There are basically two principles according to which it is decided which citizen receives a citizenship. The USA, for example, distributes nationalities among other things according to the territorial principle, also known as "Jus Soli". This means that all children born in United States territory will automatically be granted US citizenship. But these also have children of US citizens who were born abroad.
Germany and China, for example, follow a different principle. Both states apply the "Jus Sanguinis", the "right of blood", as the literal translation from the Latin is. What is meant is the principle of descent. This means that, for example, German citizenship is not acquired on the basis of being born in Germany, but on the basis of descent from a German parent.
But while Germany also has naturalization procedures and allows dual citizenship to a limited extent, it is very difficult for non-ethnic foreigners to become Chinese. Dual citizenship is even prohibited by law in China.
Europeans in passport paradise
The situation is very different among the EU countries. In Germany, citizens from EU countries and Switzerland have been naturalized since 2007, even if this leads to dual citizenship, which is frowned upon by the federal government. Other European countries also allow dual citizenship either fully or with restrictions.
A census from 2011 showed that there are almost 4.3 million people in Germany who have another nationality in addition to German. In addition to German, 690,000 people in Germany have Polish, 570,000 Russian and 530,000 Turkish. The Federal Statistical Office had shown the number separately for the first time in a census. However, the figures are based on the statements made by registration offices. However, many people overlook the fact that they can still apply for citizenship in another country, or forget to report it if they have given another country. Therefore the numbers are not certain.
Choose between two nationalities
Up until the end of 2014 there was a special feature in Germany. Until then, children of foreign parents who were born and raised in Germany between the ages of 18 and 23 had to decide whose citizens they would like to be: of the country in which they were born or of the country of their parents. This particularly affected people of Turkish origin with a German passport.
Since the end of 2014, however, Germans no longer have to make a decision who have been in Germany for at least eight years at the age of 21 or who have attended school in Germany for six years. Since then, the so-called option obligation no longer applies to those who have graduated from school or have completed vocational training in Germany. As a result, people of Turkish origin in particular were able to retain both Turkish and German citizenship.
Israeli-Palestinian particularities
In the Middle East, in the case of Israel and the Palestinian Territories, there are several civic characteristics. One also relates to Germany. There are German citizens who are entered in the Palestinian person register at the same time or who have a Palestinian personal identification number (ID number). In principle, you are not allowed to enter Israel even though you are a German citizen. They are only allowed to enter the West Bank via Jordan. If they do not have a Palestinian passport, the ID number is entered in the German passport and the German-Palestinians are encouraged to acquire a Palestinian passport.
In Israel, on the other hand, a rare rule on citizenship is in place. In 1950, two years after its founding and still remembered the Holocaust, the country passed a law that allowed all Jews to emigrate to Israel and become citizens. A Jew was someone with a Jewish mother or a convert. To this day, the law enables persecuted Jews around the world to become Israeli citizens. Recently, many French Jews took advantage of this opportunity in view of increasing anti-Semitic incidents in their homeland.